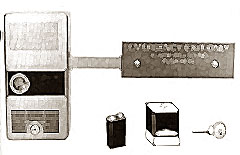 ALARM, EMERGENCY EXIT (DETEX)
Product Code: HWD-11041
Price: Check Latest

Detex® Emergency Alarm

• Combination door lock and alarm deters unauthorizedentrance from outside
while allowing emergency exitfrom inside*
• High decibel alarm horn
• Battery operated, no external wires
• 9 volt battery included
• For use on left- or right- hand doors
• Rugged, die cast case with saw resistant bolt assembly
• Includes cover lock which protects internal alarm mechanism
• Easy to install and simple to use
• Detex no. ECL-230D

*Important: Installation of no. HWD-11051, cylinder lock intoalarm case is necessary
to lock and unlock door bolt andalso to arm or disarm alarm from inside the building.
If ability to lock or unlock door bolt, and arm or disarm alarm from outside ofbuilding is
necessary, an additional no. HWD-11051 cylinder lock must be purchased.